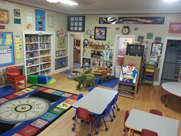 StarLite Preschool admits children of any race, creed, nationality and ethnic origin.
To register your child, you must submit the following documents and fees:
Your child must be at least 3 years of age by September 1st 2017 to enroll. Open Enrollment will begin on August 1, 2017. We currently have only 5 openings available for the 2017/2018 school year.

To our New Students who have signed up for 2017/18 program we are looking forward to an exciting school year. If you are interested in the 2018/19 program and would like to schedule a personal meeting to see the school and our program please contact Ms. Toni at (734)654-9700 or send her an Email mstoni email.
We are here to make your child's preschool experience both positive and enjoyable. We encourage and welcome you in our classroom anytime. Together, we can provide your child with the experience necessary for him/her to develop a love for learning that will last a lifetime. Come see how smaller class size and a one on one learning environment make the biggest difference in your child's education.
*** OUR CLASSROOM PICTURES CLICK HERE ***
*** OUR KIDS AT PLAY CLICK HERE***